#1 Roadside Assistance in Pomona California
Fast, Reliable Roadside Assistance in Pomona California, Diamond Bar California, Ontario California, and surrounding areas is just a phone call away!
Could this day get any worse? You're stuck on the side of the road with a flat tire and no spare. Don't worry when this happens – call Quik Tow for a mobile tire repair service. Our team can provide roadside assistance any time your car breaks down. If we can't fix the problem on the spot, rely on our tow truck to get you and your car to a repair shop.
We know it's a stressful situation any time you have to call for roadside assistance. Whether you got a flat tire or locked your keys in your car, Quik Tow will make it easy to get roadside assistance in Pomona, Ontario, & Diamond Bar, CA. We have service vehicles on call and waiting to assist you when you need us!
When you find yourself in need of roadside assistance in Pomona California, rely on our team to come prepared with the equipment needed. To get roadside assistance, just give us a call or request service online!
Call Quik Tow for Roadside Assistance in Pomona California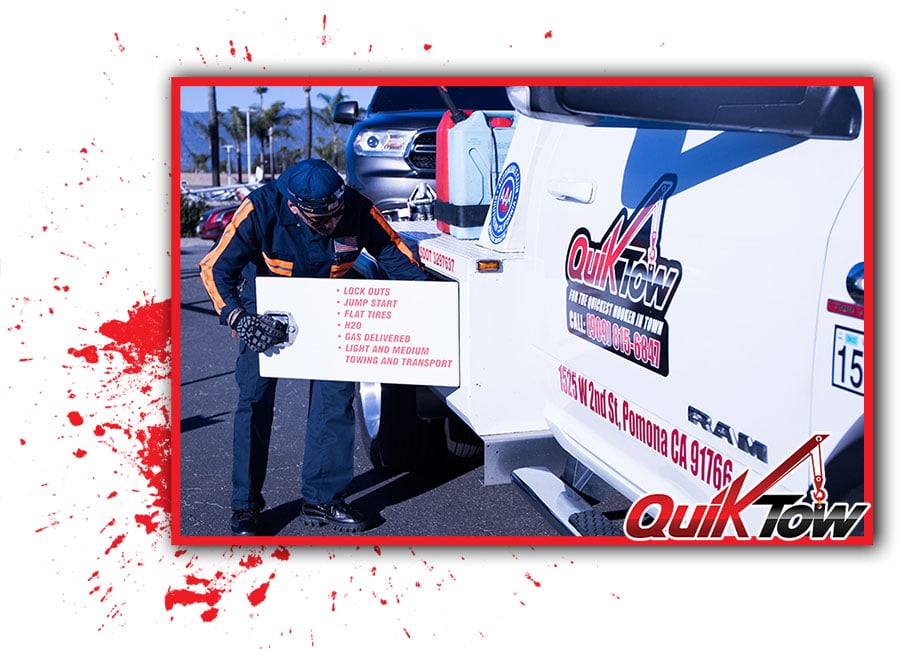 24/7 Roadside Assistance in Pomona California & surrounding areas